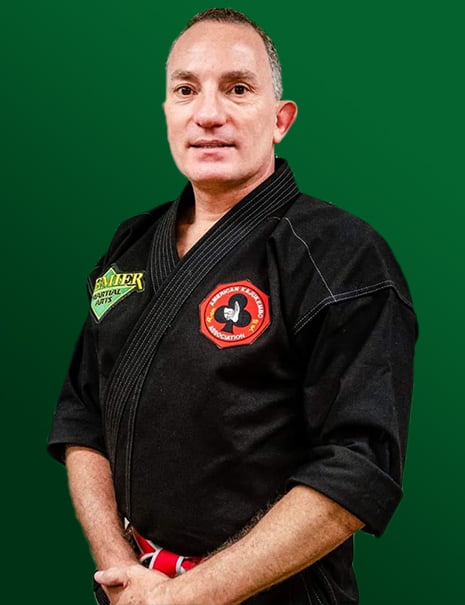 James Cox - Martial Arts Beginnings
I have been teaching full-time for well over 3 decades, my professional career is to empower lives through the martial arts by building complete well-rounded Black Belts. In over a 25-year period, I competed in an average of 25 tournaments a year, I fought more than 1,800 sport karate point fights in more than 600 tournaments. I proudly placed in the top three at every tournament. I was undefeated many years and won countless Grand Championships. I also retired with a sanctioned full contact kickboxing record of 11 wins and 2 losses with two National middle weight titles and won several unsanctioned boxing and MMA fights.
I regularly perform demonstrations, as well as do motivational speaking and teach seminars for all types of organizations. One of the most rewarding things about being an instructor is the ability to pass on the lifelong benefits of Martial Arts with the tools to succeed as they were handed to me so many years ago. I am truly blessed by, and grateful for, the ability to hand those same tools to so many people daily; to give others the skills to change their life path and create their own success.
In 1985, at the age of 15, I joined my first Martial Arts class a local recreation center. My instructor, Patrick McDaniel, became both a teacher and a father figure to me. He grew a Martial Arts community from the seed that George Jackson planted by bringing the Kajukembo style to Abilene, Texas in the early 1970s.
James Cox Martial Arts Journey
THE JOURNEY BEGINS / EARNING EARLY STAGES OF BLACK BELT: 1985 – 1990
In 1985, began my first class and have been a student ever since.
In 1988, under Patrick McDaniel I earned my 1st degree black belt, and a second degree in 1990.
OPENED A FULL TIME DOJO / BEGAN BOXING: 1991 – 1995
In 1992, I opened my first full-time karate school and earned my third degree in 1994.
From 1994 – 2004, I took private boxing lessons from coach Jesse Cantu.
PROMOTED BLACK BELTS / MADE "CHAMPION FIGHTERS": 1996 – 2000
In 1996, I won my first National Kickboxing Title.
I had promoted my first 19 Black Belt students before the year 2000 as well as had 4 fighters that were also National Kickboxing champions.
TAUGHT AS UNIVERSITY PROFESSOR / HALL OF FAME INDUCTED / WON 16th STATE TITLE: 2001 – 2005
In 2001, I earned my 4th degree and 5th in 2003.
In 2002 – 2007, I taught martial arts and kickboxing at Abilene Christian University.
In 2003, I was inducted into the United States Martial Arts Hall of Fame.
In 2003, I won the Golden Greek top competitor in Texas award.
In 2004, I won the Texas referee of the year award.
In 2004, I won my AOK Texas State Championship for the sixteenth time.
In 2005, I was promoted to 6th degree black belt and endorsed by five top Senior Grand Masters: Don Alii Nahoolewa, Joe Davis, Richard Peralta, George Jackson and Gerald Chavez.
JOINED PREMIER / THE PIT / WON 2nd National Title: 2006 – 2010
In 2007, Abilene Kajukembo became licensed as Premier Martial Arts with Barry Van Over.
In 2008, I became an affiliate of "The Pit" Hawaiian Kempo with John Hackleman.
In 2008, I won my second National Kickboxing title in Chicago at the WAKO / KICK United States Championships.
In 2009, I was promoted to 7th degree black belt.
OPENED FIGHT SHOP / BECOME LICENSED PROMOTER / JOINED RCJ: 2011 – 2015
In 2012, I opened Premier Fight Shop in the Mall of Abilene and was the area's first MMA Supply store.
In 2012, I founded the Premier Fight Association to promote amateur and professional cage fights.
In 2012, I was elected President of the American Kajukembo Association under Chief Senior Grand Master Don Alii Nahoolewa.
In 2013, I earned my Kajukembo 8th degree and Master title.
In 2015, I earned my purple belt in Brazilian Jiu-Jitsu from Carlos Machado, and became an affiliate school of the RCJ Machado Association.
OPENED NEW LOCATION, EARNED 9th DEGREE GRAND MASTER, SECOND HALL OF FAME, ON-LINE MEMBERSHIP SITE: 2016 – 2020
In 2016, I opened an additional PMA location in the Abilene Wylie area.
In 2017, I was promoted to the final rank of 9th Degree Black Belt in Kajukembo with the title of Grand Master.
In 2017, I was inducted into the Kenpo Hall of Fame in Dallas, Texas at the Gathering of Eagles event.
In 2019, I came out of retirement to compete in forms and self-defense and won Grand Champion at a state karate tournament.
In 2020, during the Pandemic, I started my online student success center, with a membership site bringing my years of teaching / competing experience to the digital age with the Most Versatile Martial Artist Series.
Martial Arts - Moving ever onward!
In conclusion, I am extremely passionate about teaching good quality, well rounded, effective mixed martial arts and literally obsess over my students getting progress. My commitment is to make certain they get positive results, the only thing that really matters is their results. This is a journey to look, feel and become your best.
My team and I are creating a better community, one Black Belt at a time. We are America's self-protection, personal development and fitness experts with something for everyone. "Thoughts Become Things" – Grand Master James Cox